At Dairi-O we have a people-first mission and consider each employee to be a valuable part for our team and work family. Our team is the foundation of our growth and investing in their future is our priority. A sense of purpose and teamwork in everything we do has built an amazing culture of doing right by each other and our customers. We create an exciting and fast-paced work environment with a focus on family, fun, and community. Being a team member or leader with Dairi-O is not just a job, it's an opportunity to grow and learn with one of the most successful fast casual restaurants in the southeast.
Competitive Pay
Our team members enjoy competitive wages paid weekly as well as systematic performance based raises and bonuses. Along with competitive pay, you will work in a friendly environment that will teach you valuable business, life, and people skills.
Flexible Schedules
We want our team members to have a life outside of work. We understand everyone has commitments with friends, family, school or teams. We will make every effort to plan your work schedule around them. We are closed on Easter, Thanksgiving, and Christmas as well.
Paid Breaks & Free Food
Team members get a paid break anytime they work longer than a four hour shift. In addition, they are entitled to free small beverages and a free break meal.
Comprehensive Training – No Experience Required
While having work or restaurant experience is a plus, it is not required to become a team member at Dairi-O. If you are an outgoing and friendly person who enjoys serving others, we can teach you everything else you need to know.
Advancement Opportunities
Our work environment is team-oriented, fast paced and fun. We encourage all of our Team Members to grow with us as a part of our success story. The majority of our store leaders and managers started as hourly associates with Dairi-O.
Service Team Member Job Description:
Team Members who interact on a regular basis with our customers. These positions include cashier, ice cream, drive thru cashier, drive thru window attendant, expo, and lobby. Duties may include communicating with guests, handling cash, handling credit cards, handling customer complaints, lifting (up to 30 lbs.), placing orders correctly into the POS system, effectively and efficiently fulfilling orders, stocking, dishwashing, cleaning, and following Dairi-O food preparation procedures.
Kitchen Team Member Job Description:
Responsible for the day-to-day operations of running the fryer, flat grill, dressing, wrapping and food prep. These duties may include cooking and preparing food in a safe manner, adhering to all recipes and cooking procedures, effectively and efficiently fulfilling customer orders, cleaning of the kitchen and equipment, stocking, lifting (up to 30 lbs.), regulating grill temperatures, dishwashing, following Dairi-O food preparation procedures, or any other duties assigned by management.
Apply now and start an exciting new career with our team!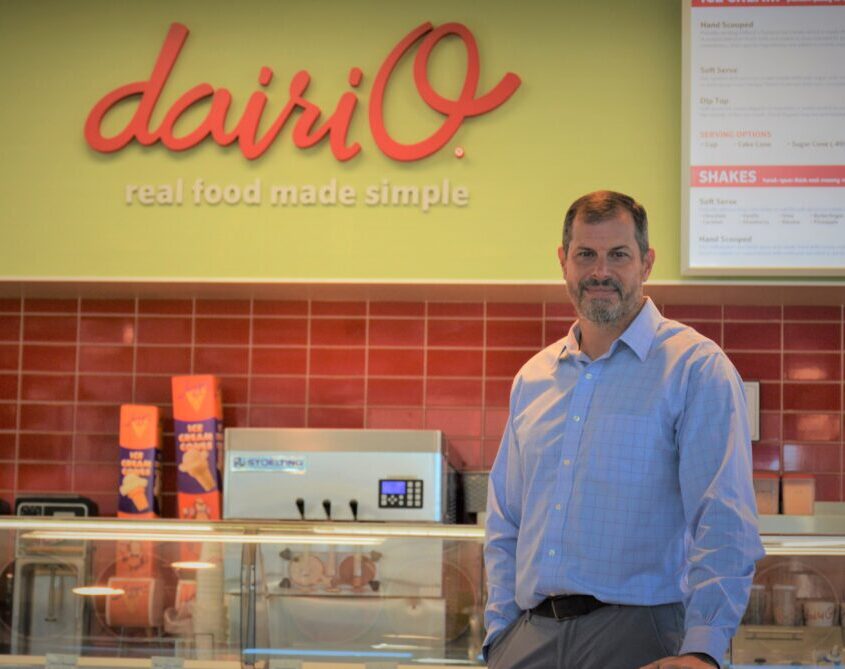 Apply online for management position to begin a challenging and rewarding career with Dairi-O!
Who are we looking for?
Energetic, loyal, and dependable leaders who are passionate about serving others
Attention to detail and dependable work ethic
Positive attitude with excellent leadership ability
Strong written and verbal communication skills
Management experience of at least 2 years in service industry or an equivalent higher education degree preferred
Why Dairi-O?
Flexible schedules and a work week that is typically less than 45 hours
Exciting and dynamic work environment
Paid vacation and free meals
Competitive pay and performance based bonuses
Leadership development and opportunities for growth
What will you do?
Direct operations of the restaurant according to established standards and procedures
Daily activities such as food preparation, guest relations, and inventory management
Recruiting, developing, and scheduling team members
Financial accountability and fiscal responsibility
Focus on excellent customer relations while delivering the highest quality food
Dairi-O is an equal opportunity employer and does not discriminate against any applicant or employee because of race, color, religion, sex, sexual orientation, national origin, disability, genetic information, age, or military or veteran status or any other characteristic protected by applicable law. Dairi-O also provides reasonable accommodation to qualified individuals with disabilities in accordance with applicable laws.
Dairi-O is committed to providing a secure working environment. As part of this commitment, for some key positions and where mandated we will conduct a background check through our chosen vendor. Please be assured that your information will be treated confidentially. Failure to complete the background check within the requested timeframe may result in postponement of your employment start date or revocation of our employment offer.